This is the primary location of where you will store your client's information. To ensure client information ends up in the right place every time, the left side plane has these following categories: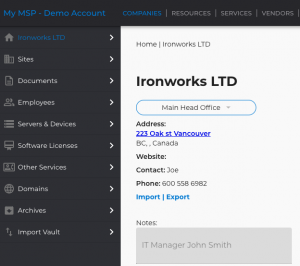 You can easily import your existing documentation with the CSV template files using the import function. Data services are also available to do custom imports and data mapping as a part of the onboarding process. If you wish to use SyncMonkey's data services, please reach out to your Account Representative for a consultation.
Additionally, you are able to sync in your companies, configurations, and contacts from any one of the supported PSA's and RMM's. This will expedite the time in migrating your data in to SyncMonkey.
For an in-depth walkthrough you can check out these tutorial videos on our YouTube