Created as a way for clients to view and manage their own credentials and documents, the Client Portal also allows administrative contacts to access all of their employee credentials and update and maintain their payment information and invoices.
Sharing Documents
To make a document visible with in the client portal, you will need to click the pencil tool next to the document you want to make available and under the "Shared" section select yes.
Documents such as How-To guides or self-troubleshooting guides should be made available in the client portal.
Portal Access Levels
Client Admin: Has access to all employees
Client Manager: Has access to all employees EXCEPT for hidden users
Standard Client: Only has access to their own credentials
Hidden: this means no other portal user (except the admin) are able to see this user's information.
Enabling Access
Client Portal access is enabled in the employee section of a company. Once you have an employee that will need access to the client portal. Navigate to the employee and click the pencil icon next to their name.
Enter their email address
Enter in their mobile number (for 2FA)
Choose an appropriate country code
Choose portal access level you wish to grant the employee
Save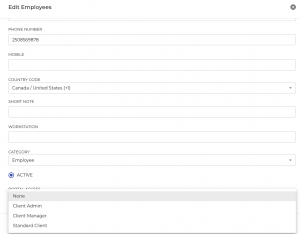 The user will then get an email to activate their account. (Note, the link expires after 6 hours) If the window of activation is missed, access will need to be disabled and re-enabled.